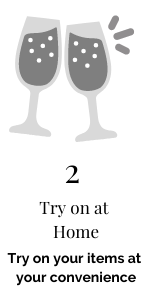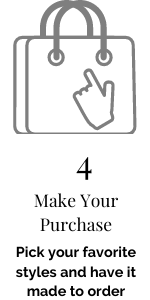 Q: How does NAK Design Studio's Try at Home Program work?
NAK Design Studio's Try at Home Program is a great way to experience the quality and fit of our designs before you make a purchase!
You can order any combination items from 2 up to 5 items. All bridal tops are $20. Bridal skirts, overskirts, or jumpsuits are $30 per item. You can keep the items for 3 calendar days from the delivery date.  
Processing takes 1-3 business days to ship your order from our site in the Metro Washington, DC. Shipping from there can take 1-5 business days. for your package to arrive, depending on where you live. Your package will arrive with a prepaid return label included in the box.
Q: What items are in your Try at Home Program?
We have all of our collection available for the Try at Home Program. Please note at this time not all sizes are available for each design or item. All size information is available on each product's page.
Q: What does the cost of the items go towards?
The cost of your items goes directly towards the cost of shipping them to you and back to us.
Q: Where can the samples be delivered?
Our samples are currently available in the United States
Q: How long does it take for my sample to arrive?
Samples take about 1 - 3 days for processing and 1 - 5 business days to ship. Once they have been shipped, you will receive an email with tracking information so you can know exactly when to expect your package!
Q: When do I need to return my samples?
Your return package needs to be dropped back off at FedEx 3 days after you get it in the mail.
Q: What happens if I forget to send back my sample within 3 days?
Please try to return to the sample within the specified time. If something happens and you can't get your order to USPS in time, send us an email ASAP explaining why, we may be able to help you out. Otherwise, you will be charged twice the retail cost, as well as additional shipping and handling fees. Refusal to comply with our terms and policies, will result in being prohibited from ordering with us in the future.
Q: What happens if I lose my return label? Can I purchase my own?
If you lose your return label that was supplied to you please contact us via email or text immediately. We will send you an email with your return label that can be printed and taped to your box.
Returns that don't use our return labels are not our responsibility.
Q: Can I just keep my sample?
We absolutely understand how convenient it would be to be able to keep your sample if it fits perfectly, and that is very much an option on SOME of our products. Some of our attire is eligible for "Purchase at Home". Check each product's page for clarity. Additionally, when you receive your samples in the mail, each tag will tell you if the item is available to purchase.
All other samples must be returned back to us and they are not to be worn to events or kept for any reason. If your samples are not postmarked for return by the 3rd day from delivery to you, you could be charged twice the retail cost, plus additional shipping and handling charges. You could also be banned from ordering with us in the future and we really don't want this to happen!
Please also keep in mind that you could be charged for the samples if they come back to us damaged, missing their dress tags, coated in pet hair, are dirty or stained, or if they have a strong odor. Samples should be returned to us in good condition, just as they were sent out.
Q: How do I have a successful Try on at Home experience?
We are excited for you to have a great experience trying your samples on in the comfort of your own home. Please try your samples on in a clean, pet free, and smoke free space. Samples must be returned to us in the original condition that you received them in with the tags still on.
If samples come back and they're obviously damaged but we can fix them, you'll be charged a fee that's determined by the extent of the damage. However, if the dress is returned and there's no fixing whatever is wrong with it (such as they are dirty, stained, coated in animal hair, or have a strong odor) you'll be responsible for paying the full retail price of the dress, plus the full cost of a replacement including shipping.